Recticel launches new range of bio-circular insulation solutions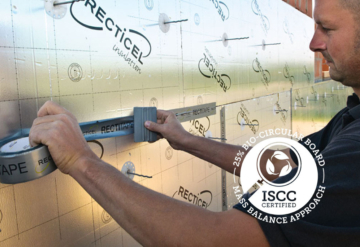 Recticel introduces a new range of polyurethane insulation boards containing 25% bio-circular raw materials, calculated in accordance with the Mass Balance principle.
The new Impact range reduces CO2 emissions by an average of 43%1 compared to a standard board while offering equivalent technical high insulation performance. These new products are an important element of Recticel's proactive approach to reaching net zero emissions by 2050, as committed to the SBTi 2.
Mass Balancing: key to phasing out fossil raw materials
The transition to full circularity in raw materials sourcing in the construction industry will have to happen. The Mass Balancing method offers a way to transition step by step by mixing fossil and renewable raw materials in existing systems and assigning the bio-circular raw materials to specific end products through certification. Recticel's new Impact insulation boards meet the standards for International Sustainability & Carbon Certification (ISCC), an initiative that guarantees traceability and responsible production of raw materials.
Transforming waste into high-quality products
The Impact range achieves an average of 43%1 reduction in its carbon footprint by replacing a proportion of the fossil-based MDI (polyisocyanurate) component with raw materials from residual waste of biological origin (e.g. vegetable frying oil). The resulting insulation products maintain the same outstanding technical performance, including lifetime and lambda values, as products containing fossil-based raw materials. The first boards in the range – Eurowall Impact and Eurothane Silver Impact – also feature a multi-layer facer made from wood fibre sourced from PEFC-certified and sustainably managed forests.

Ready to take action yourself?
Recticel contributes to the fight against climate change thanks to its energy-efficient insulation applications for the construction industry. Recticel has committed to the SBTi to become a net zero emission company on Scopes 1 and 2 by 2030 and to reach net-zero on Scope 3 by 2050 at the latest.